The following is a list of movies/TV series which I come across and watched containing fencing scenes.
Director = D
Blackie The Pirate - English
(A pirate yarn about 'good' pirates fighting the corrupt Spanish lords and officials with some good fencing scenes. Terence Hill looks okay here with of course his frequent partner Bud Spencer. Also stars George Martin and Silvia Monti who plays the viceroy's wife and Blackie's love interest. D - Vincent Thomas.)
By the Sword - English
(This is THE movie all fencers should watch especially the settings. Stars F.Murray Abraham, Eric Roberts, Chris Tydell, Elaine Kagan, Brett Cullen and Mia Sara. Yes, I am being long winded. You've been warned! Don't miss this one. D - Jeremy Paul Kagan.)
C
Casino Tycoon (I & II) - Cantonese
(A two part movie starring Andy Lau depicting the rags to riches story of a man who became Macau's number one casino king. The fencing scene is in part I and is a free for all between Andy and another man over a girl played by Joel Wong. D - Wong Jing.)
Cyrano Dr Bergerac - French
(One of the most famous romances of all times comes to brilliant life in this dazzling film based on the world famous play by Edmond Rostand. Gerard Depardieu, France's most celebrated actor gives the performance of his life as Cyrano, the 17th Century poet, soldier and adventurer known to everyone in Paris - and everyone knows never to mention Cyrano's enormous nose - not unless they want to duel with the most famous swordsman in France. Great sword scenes. Anne Brochet stars as the the beautiful Roxane and Roland Bertin completes the love triangle as Christian. Jacques Weber and Vincent Perez also stars. D - Jean-Claude Petit.)
D
Dead End - Cantonese
(A Hongkong TVB telemovie tragic love story between a Chinese national woman fencer and an aerobic male dancer. The fencing scenes are like chinese swordfighting!)
Diane - English
(Roger Moore as King Henri of France and also in leotards throughout. A love triangle between the king, his Italian wife Catherine and his tutor Diane played by Lana Turner. The movie has one good fencing scene where Roger learns some fencing from Lana Turner. Story is based on the novel 'Diane de Poitiers' by John Erskine. It also stars Pedro Armendariz, Marisa Pavan and Sir Cedric Hardwicke. D - David Miller)
Die Another Day - English
(After 19 official assignments James Bond 007 finally reveal another great talent of his. He's also a master fencer. Some nice fighting scenes by Pierce Brosnan. Madonna's mtv of the title song has some pretty colourful fencing scenes. Other than that they should have kept her out of the movie. Rosamund Pike shows some pretty moves too with a sword.)
Don Juan - English
(A love story with some pretty good fencing scenes. Stars Talisa Soto. D - Jeremy Leven.)
E
Engarde - English
(A silly spy story with adults fencing like kids. Watch only when you have absolutely nothing else to watch. By the way this is an adult XXX movie so not for kiddies!)
H
Hearts of Fencing - Cantonese
(A Hongkong TVB mini-series revolving around four high school students who took up fencing. Lots of fencing scenes especially in team fencing competition, philosophy of mental fencing, pretty girlfriends and cameo appearances by many famous Hongkong stars. There are 11 episodes in total.)
Homecoming II - Cantonese
(A Malaysian TV series. One of the episode has a classic confrontation between two men fighting for, as usual a lady. One is a classic Tai Chi Sword practitioner and the other a sabre fencer.)
Hongkong Sports Institute Special - Cantonese
(A Hongkong TVB one tape special with celebrities pitting against the sportspeople in various sports including fencing. Also highlights the Hongkong national fencers in training.)
M
Morgan the Pirate - English
(Another pirate yarn starring Steve Reeves. He's no fencer. Should stay as Hercules. Valerie Lagrange stars as Steve's love interest. Set in 17th century where Spain and England were at war. Steeve plays an englishman forced to be a pirate and caught in between his loyalty to England and his love interest whose father is a Spaniard mayor. D - Andre De Toth.)
O
Olympic Buff Championship 1996 - Cantonese
(A Hongkong TVB telematches show in conjunction with the Atlanta Olympics. Fencing is also featured represented by petite Ms.Ho Kar Lai, epee silver medallist at the Commonwealth Fencing Championships '94.)
P
Pentathlon - English
(A good political story with some fencing stuff but Dolph Lundgren is not suitable for the role as a pentathlon athelete who defects from East Germany to USA. He looks more like a weight-lifter, boxer or wrestler. Other stars includes David Soul, Roger E.Mosley and Renee Coleman. D - Bruce Malmuth.)
Q
Queen Margot - French
(Winner of 5 Cesar Awards and the prestigious Cannes Film Festival Jury Prize, this story is based on the little known novel by Alexandre Dumas. A classic tale of intrigue, forbidden love and some savage sword fighting scenes. It stars Isabelle Adjani, Daniel Auteuil, Jean-Hugues Anglade, Vincent Perez and Virna Lisi. D - Patrice Chereau.)
R
Ring of Steel - English
(A simple story where swordsmen fights to the death in an arena as a betting sport. Lots of great fencing scenes. Stars Robert Chapin, Joe Don Baker, Carol Alt, Darlene Vogel and Gary Kasper. D - David Frost.)
Ring of the Musketeers - English
(Despite having the infamous word 'musketeers' in the title, there is only one fencing scene at the start of the movie. Blazing guns took over the rest of the movie. D - John Paragon.)
Rob Roy - English
(Great historical Scottish story and great fencing scenes. Starring Liam Neeson, Jessica Lange, John Hurt, Tim Roth, Eric Stoltz and Andrew Keir. D - Michael Caton-Jones.)
Rushmore - English
(Chronicles a year in the life of Max Fischer, a student at Rushmore Academy. An ambitious student, Fisher excels at school activities, including fencing, and falls in love with his teacher - only to find his older and richer friend also in love with her. A bit of some fencing training scene. Starring Jason Schwartzman, Olivia Williams, Brian Cox, Mason Gamble and Bill Murray. D - Wes Anderson.)
S
Scaramouche - English
(A great classic sword fighting movie with Stewart Granger and Mel Ferrer delivering some great fencing stuff. But the story is a bit choppy. Other stars are Eleanor Parker, Janet leigh, Henry Wilcoxon, Nina Foch, Richard Anderson, Robert Coote, Lewis Stone and Elizabeth Risdon. The film is based on Rafael Sabatini's swashbuckling classic. D - George Sidney.)
Spirit of the Dragon - Cantonese
(A Hongkong ATV series about the life of Bruce Lee. Bruce's elder brother, Peter Lee, used to be a national fencer thus it includes scenes of him fencing. Bruce Lee was known to have incorporated fencing moves into his own Jeet Kune Do.)
Sorrowful Heart - Japanese
(A modern Japanese love triangle story with a fencing theme. Two very good high school friends who are talented fencers falls in love with the same girl. One became crippled in an accident partly due to the fault of the other. Feeling remorse he gave up fencing and tried to push the girl to his crippled friend. Trouble is the girl likes him more so noone ends up with her. After knowing what has happened the crippled friend took up wheelchair fencing and reunites the girl with her true love. Lots of fencing action scenes with authentic movements.)
T
The Art of Being Together - Cantonese
(A Hongkong TVB love comedy series with two scenes on fencing.)
The Count of Monte Cristo - English
(Some good fencing scenes with Richard Chamberlain and Tony Curtis from the famous novel by Alexander Dumas. Also stars Trevor Howard, Louise Jourdan, Donald Pleasence and Kate Nelligan. D - David Greene.)
The Duellist - English
(Some good sword fighting scenes as two egoistic men kept duelling each other for years. The settings and costumes are quite authentic. Stars Keith Carradine and Harvey Keitel from the novel by Joseph Conrad basing on a true story. Also stars Albert Finney, Edward Fox, Cristina Raines, Tom Conti and Diana Quick. D - Ridley Scott.)
The Mark of Zorro - English
(Very solid performance by Tyrone Power as Zorro. Based on the original story 'The Curse of Capistrano' by Johnston McCulley, this 1940 Zorro movie was nominated for an oscar for best music. It has some of the best classical fencing scenes on screen. Also stars Linda Darnell, Basil Rathbone and Gale Sondergaard. D - Rouben Mamoulian.)
The Mask of Zorro - English
(Fast and furious moving pace with lots of sword fights. Starring Antonio Banderas as the new Zorro and Anthony Hopkins as the old one. Also stars Catherine Zeta-Jones and Stuart Wilson. D - Martin Campbell.)
The Legend of Zorro - English
(Sequel to 'The Mask Of Zorro', the main characters return for another round of sword fights but not as intense as the first one. This time Zorro and wife is joined by their son Joaquin. Starring Antonio Banderas as Zorro again with Catherine Zeta-Jones as his wife Elena and 10 year old Adrian Alonso as Joaquin. D - Martin Campbell.)
The King's Whore - English
(Ex-Bond Timothy Dalton dishing out some pretty good fencing moves as an Italian King who lust after one of his subject's wife. D - Axel Corti.)
The Prisoner of Zenda - English
(Some good fencing stuff from the novel by Anthony Hope. D - John Cromwell.)
The Princess Bride - English
(An adventure of good guys and bad guys, fights and chases, bravery and cowardice, capture and escapes, true love and hate, giants and spiders and an occasional miracle. Great fencing scenes by Cary Elwes and Mandy Patinkin. Also stars Chris Sarandon, Christopher Guest, Robin Wright and Peter Falk. Based on the novel by William Goldman. D - Rob Reiner.)
The Quest - English
(One fencing scene. It's basically a martial arts movie. Ex-Bond Roger Moore guests star here. D - Jean Claude Van Damme.)
The Scarlet Pimpernel - English
(Based on the famous novels by Baroness Orczy, the hero Sir Percy Blakeney disguises himself as a typical high society fop but underneath all that is a master of disguise and a dashing fearless rescuer of victims of the French Revolution. Sir Percy falls head over heels for the beautiful Marguerite who is also wooed by the villainous Paul Chauvelin, chief agent of Robespierre for the Committee of National Security. So you can expect the hero and the villain to cross swords in the only fighting scene at the end of the movie. Very nice clean fencing moves by Anthony Andrews as Sir Percy, Ian McKellen as Paul and Jane Seymour as Marguerite. D - Clive Donner.)
The Son of Captain Blood - English
(Errol Flynn's 23-yr old son Sean plays the son of Peter Blood, a character played by Flynn himself once. Half the old cast returned to play back their original roles. The story started off with a fencing scene but soon degenerades into pirate brawls. The story lost it's way towards the end to make it into a disaster movie complete with earthquake and a hugh flood submerging part of an island. Also stars Olivia de Havilland as Robert Blood's mother. D - Tullio Demicheli.)
The Swordsman - English
(Great fencing scenes with Lorenzo Lamas, Nicholas Pasco, Michael Champion and Claire Stansfield. Story evolves around the legendary sword of Alexander the Great which was stolen enroute to a museum. D - Michael Kennedy.)
The Wanderers - English
(A sci-fi British TV series with fencing.)
W
Wartime Lovers - Cantonese
(A Hongkong TVB telemovie about two good friends loving the same girl (what else?) during the outbreak of WW2. But one is a Japanese and the other a Chinese. The Jap character is a fencing expert.)
Z
Zorro, The Legend Begins... - English
(This is the pilot episode of the Zorro series which tells of how and where he learnt his fencing skills. Duncan Regehr is Zorro. Great fencing scenes which also stars Patrice Camhi as Zorro's love interest, Efrem Zimbalist,Jr as Zorro's father, Juan Botta, his faithful servant and Michael Tylo as his nemesis Alcalde.)
Finally, who can ever forget the musketeers! "All for one, and one for all!"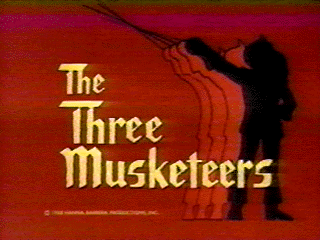 1) The Three Musketeers (1948) - English
(An early classic effort directed by George Sidney. The fencing is very good and the story moves at a fast pace with the legendary Gene Kelly as d'Artagnan. The rest of the cast are Lana Turner (Lady de Winter), Vincent Price (Cardinal Rechelieu), June Allyson (Constance), Gig Young, Angela Lansbury and Van Hellin.
2) At Sword's Point (1952) - English
(Directed by Lewis Allen, this musketeer tale is about the children of the four musketeers. The fencing scenes are authentic especially those executed by Claire (Maureen O'Hara) the daughter of d'Artagnan. She with the sons of the three musketeers rode to Paris to protect the throne of France from the cunning Duc de Lavalle. Together they rescue a prince, save a princess and outwit a sly lady-in-waiting who has her eye on the throne. Also stars Cornel Widle, Dan O'Herlihy, Alan Hale Jr. and Robert Douglas.)
3) The Three Musketeers (1974) - English
4) The Four Musketeers (1975) - English
5) The Return of the Musketeers (1989) - English
(These three are the ones starring Michael York (d'Artagnan), Oliver Reed (Arthos), Richard Chamberlain (Aramis), Frank Finlay (Porthos) and Christopher Lee (Rochefort). The first two also stars Racquel Welch (Constance) and Faye Dunaway (Milady). I think this is still the best movie version. The Return of the Musketeers is based on Alexander Dumas's second book on the musketeers entitled 'Twenty Years After'. It tells of the plot by Milady's daughter, Justine to avenge her mother's death. The story also introduces the only son of Arthos, Raoul. Kim Cattrall plays Justine while Raoul is played by C.Thomas Howell. All three are directed by Richard Lester.)
6) The Three Musketeers (1993) - English
(Directed by Stephen Herek with some young upstarts starring in it. The fencing scenes were pretty cool though. Stars Chris O'Donnell (d'Artagnan), Kiefer Sutherland (Arthos), Charlie Sheen (Aramis), Oliver Platt (Porthos), Tim Curry (Cardinal), Rebecca DeMornay (Milady), Michael Wincott (Rochefort) and Julie Delpy (Constance).)
7) Return of the Musketeers (1997) - French
(Titled 'D'artagnan's Daughter' in certain countries, this swashbuckling musketeer movie is a french movie with great settings. The story line centres around d'Artagnan's daughter (yes, another daughter), Eloise (Sophie Marceau) the offspring of the captain and Constance. The musketeers are all very old now but they put on their swords once more to protect the King. The romantic twist here is Eloise falling in love with Quentin, the son of the late Cardinal Richelieu. But Quentin here did not follow the steps of his father and is a gentle poet. The fencing scenes are kept simple and nice. Also stars Philippe Noiret, Claude Rich and Sami Frey.)
8) The Man In The Iron Mask (1998) - English
(The third book by Dumas tells of the demise of the musketeers. It is a very sad story but the movie changed the ending to make it happy. Starring Gabriel Byrne (d'Artagnan), John Malkovich (Arthos), Jeremy Irons (Aramis), Gerard Depardieu (Porthos) and Leonardo Dicarprio (dual role as the King and Phillipe). A great touching movie.)
9) Young Blades (2001) - English
(The screenwriter took liberty with the novel and recreates an exciting different story of the three musketeers and d'Artagnan when they were very young men. Everyone is young and handsome here including a very young King Louise XIII. Lots of swordfights mixing traditional style with acrobatic movements. Starring Hugh Dancy (d'Artagnan) and Sarah-Jane Potts as Princess Anne of Spain. Directed by Mario Andreacchio.)
10) The Musketeer (2001) - English
(Yet another loose adaption from Dumas' story with d'Artagnan (Justin Chambers) being the great hero saving everyone. His three friends are relegated to supporting roles only. With a chinese stunt choreographer, expect to see a Jacky Chan type of musketeer jumping around and doing summersaults and blades flashing like a chinese sword fighting movie. Fast paced action but with a not so great story line. Other stars are Catherine Deneuve (The Queen), Mena Suvari (Constance), Stephen Rea (Cardinal Richelieu), Steve Speirs (Porthos) and Tim Roth (Febre). Directed by Peter Hyams.)
11) La Femme Musketeer (2003) - English
(This one is good mixing the often told story with fresh characters. The children of the original 4 musketeers takes over to save the Princess of Spain, King Louise XIV and his throne from the plotting Cardinal Mazarin. Their fathers including Michael York reprising his role as d'Artagnan joined them and helped to save the day. Oh yes, this one also has d'Artagnan's offspring as a girl while the rest all have sons. Lots of sword fighting. Stars Susie Amy (Valentine d'Artagnan), Michael York (d'Artagnan), Nastassja Kinski (Lady Bolton), Gerard Depardieu (Cardinal Mazarin), John Rhys Davis (Porthos), Christopher Cazenove (Arthos), Casper Zafer (Gaston), Allan Corduner (Aramis), Freddie Sayers (King Louise XIV), Marcus Jean Pirae (Villeroi), Clemency Burton Hill (Marie Mancini), Christina Krepela (Princess Maria Theresa of Spain). Directed by Steve Boyum.)
12) The 4 Musketeers (2005) - English
(This one is really long, running for 3 hours. Instead of your normal musketeer yarn this one has an infusion of supernatural powers with dark magic playing an important part in the story line. The ending is left hanging like a normal horror movie where the baddie did not die even though she was beheaded. Great sword fencing scenes with some acrobatic moves put in but the story line continuity is not smooth. Lots of loopholes inside. Stars Vincent Elbaz (d'Artagnan), Emmanuelle Beart (Lady de Winter), Tcheky Karyo (Cardinal de Richelieu), Heino Ferch (Arthos) and Gregori Derangere (Aramis). Directed by Piere Aknine.)
13) The Three Musketeers (2011) - English
(Took a lot of liberty with the original story. Arthos looks like a ninja underwater expert, Aramis is like batman good at floating down from high areas, Porthos like the mighty samson breaking chains and Milady is a fantastic bungee jumper and great killer swordswoman dispatching a few guards. d'Artagnan can't act and looks pretty only. But the biggest surprise is a floating airballoon galleon. Make that two and each trying to blow the other up in the sky. The whole story is rushed. A disappointed remake even with the few stars in it. Stars Logan Lerman (d'Artagnan), Matthew Macfadyen (Athos), Luke Evans (Aramis), Ray Stevenson (Porthos), Milla Jojovich (Lady de Winter), Gabriella Wilde (Constance), Christoph Waltz (Cardinal Richelieu), Mads Mikkelsen (Rochefort) and Orlando Bloom (Duke of Buckingham). Directed by Paul W.S.Anderson)
Zoom to top
Sign My Guestbook
View My Guestbook